Wedding is one of the most important days in the life of any individual. To make this day a memorable one is desired by everyone. The aim of the bride on this day is to look as beautiful as she can and wants everything to be perfect starting from wedding dress to hairstyling. Making decisions is tough but no one can overpower them. Choosing wedding hairstyles is a tough job as many options are available but only one can be chosen.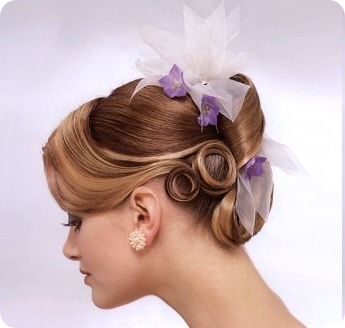 There are numerous wedding hairstyles depending upon hair length, hair color and so on. So the aim is to select the best out of the lot. In case the bride has a long hair, the choice is comparatively easier as hair can be easily setup into loose or tight curls depending on the choice of the bride and moreover many colorful hair pins are available that add to the beauty of the hairstyle or in other words act as an icing on a cake. Having a pony tail is also a good option with open hair as it gives a very decent yet immaculate look. It is important to take into consideration that the wedding hairstyles should be synchronous to the wedding theme so that they tune up to enrich the beauty. The hair curls give a very romantic look and a look that every bride wants from the time she was young so as to look like a fairy on the wedding.
It is not that only long hair look good for wedding hairstyles, short hairs are also as sophisticated as the long ones and even give an option to combine with different kinds of hair fur, crown and flowers. These combinations give wedding a very royal look which is remembered forever as embarked in history books. With the changing customs and new trends coming wedding hairstyling has changed a great deal. Brides now go for simple and easy hairstyles with latest fashion accessories apart from the conventional flowers.
Weddings are made in heaven and making the memories of this day immortal is the aim so everything requires perfection. To have the Cinderella dream come true it is worthwhile to make proper selections in hairstyling.